Turbulence level (or seeing) is a great concern when recording images of objects the sky, because this is simply jeopardizing astronomical telescope resolution. Recording images during best seeing is really a big advantage. In order to achieve this goal, continuous seeing measurement is required to optimize image recording time. To get seeing / turbulence measurements, the DIMM method is mostly used by professional observatories in order to measure atmospheric seeing (or turbulence) and allowing to optimize targets and observation programs. 
Nevertheless, DIMM method requires a telescope with enough focal length (>3000mm) and enough aperture (>250mm), and to track bright stars the whole night. This is quite stringent and can be a quite costly approach. The telescope needs a shelter, and automatically jump from a star to another to get not so far away from zenith.
ALCOR-SYSTEM provides a method to overcome some of the drawbacks of the DIMM system.


In the northern hemisphere, a bright star called "polaris" that does not move so much in the sky and is bright enough.

The fixed seeing monitor uses the Polaris star, and ALCOR-SYSTEM is proud to present this new product : micro-CYCLOPE seeing monitor
To compare this product with the Cyclope, is simple. Both are totally identical, but the micro-cyclope does not have any sub system to measure external and internal temperature and humidity, and has no front entrance window automatic heating system to remove dew (if any).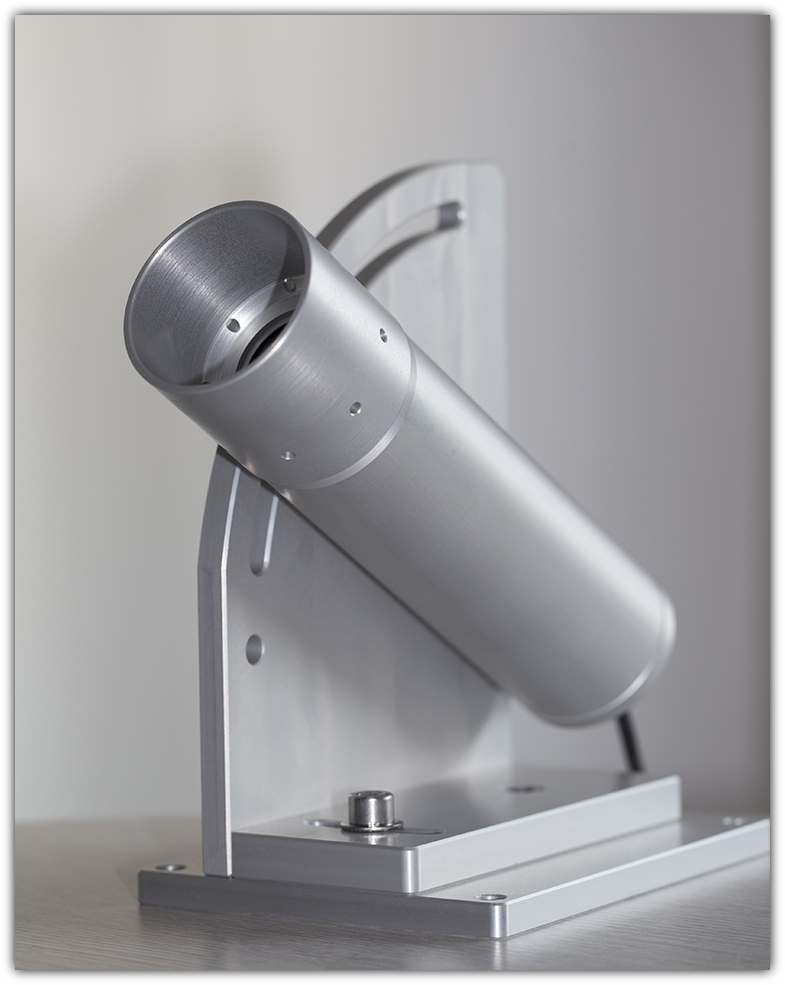 The goal of this product is to measure atmospheric seeing condition in a continuous fashion, so this setup stays outdoors all the time 24h a day, and is aimed at the polaris star in a fixed fashion.

This system can only work in the northern hemisphere, at latitudes above 15° North, for southern hemisphere please contact us for solutions.

The fixed seeing monitor is a totally sealed system that can overcome all extreme weather conditions, and is not sensitive to wind gust due to its strong design. The software starts measurements automatically when the Sun is below the horizon and only when the stars are visible.

The added value of this product compared to competitors are :

- better measurement accuracy because of more and smaller pixels
- ethernet link to the host
- ability to measure very low seeing figure, whereas other systems are not reliable under 1.5 arcsec seeing.
- strong and robust construction, that avoid measurements to be jeopardized by wind gust
This system offers watertight connectors, for continuous outdoor operation.
The line of sight can be adjusted accurately to aim at polaris star. Once this is performed, there is no need to carry out any further adjustements. The system is made of high quality alloy colorless anodized aluminum.

The weight of this item is 4.8 kg, and size is 200 mm x 150 mm (base) Height is 260 mm
Included Software
The software is embedded to this system (Windows 7/10 versions only).
The field of view of the system is 3.6° x 2.5° and perfectly accomodates the polaris star path throughout the whole night / whole year, so that continuous measurements can be performed.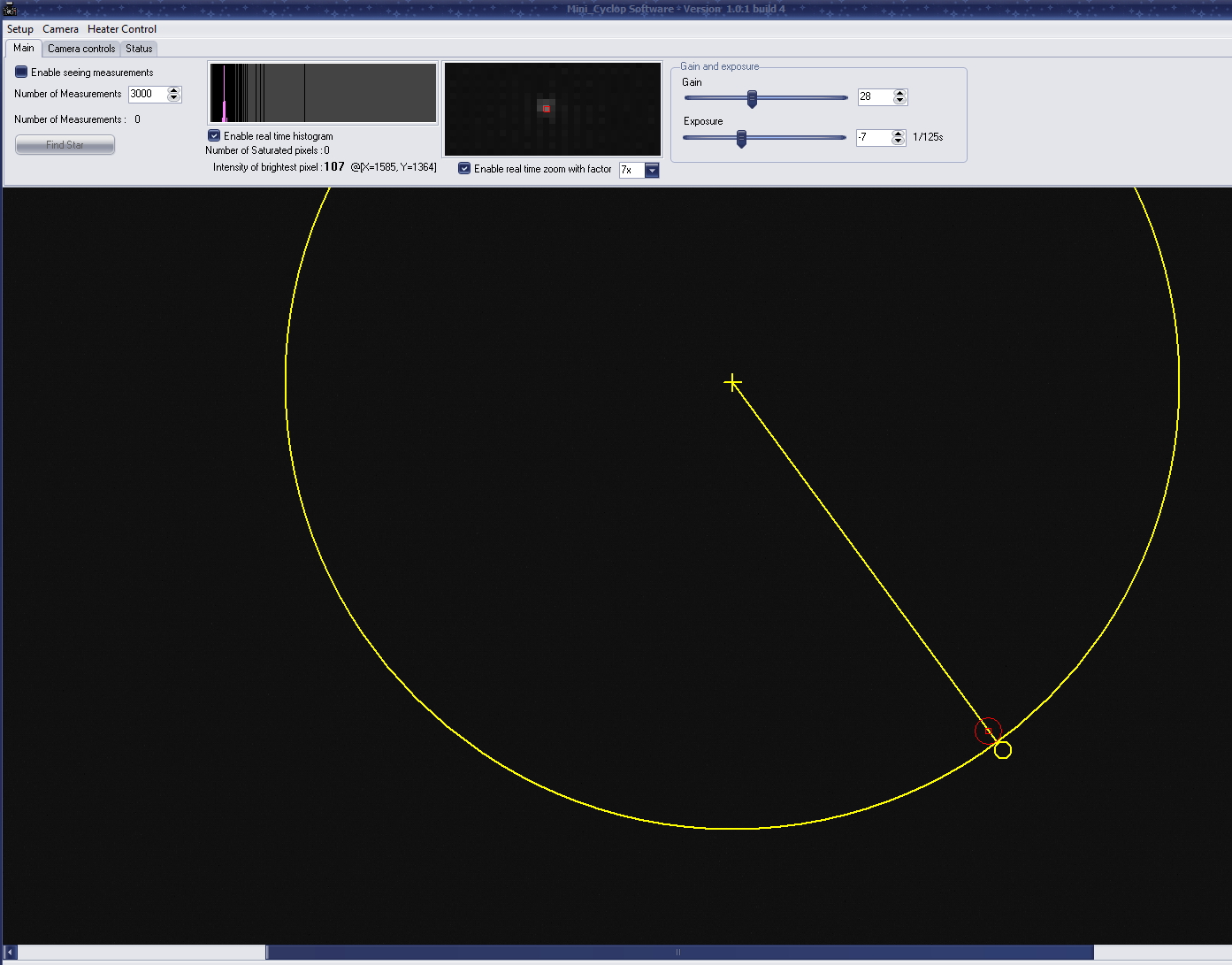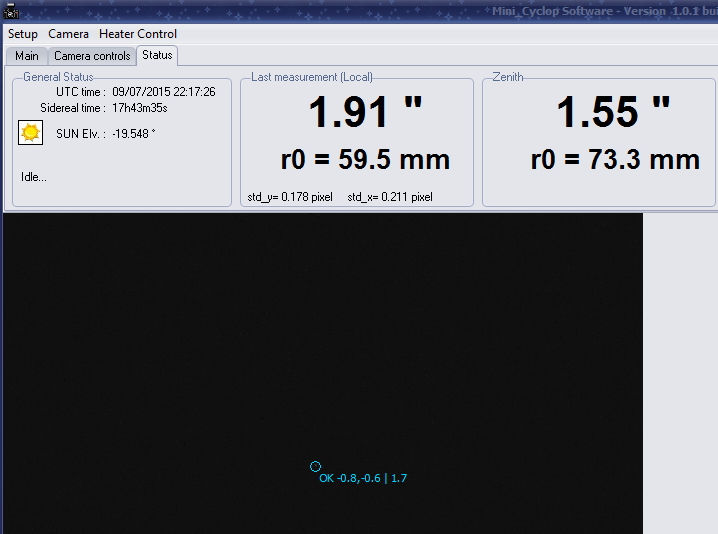 Since the image recording is performed continuously, it can provide a figure of seeing expressed in arcsec (or Fried's Ro) in a continuous matter, if weather conditions allows. 0.55µm wavelength is used, but also 1.55µm figure can be provided by the software.

The next plot shows seeing measurement over the course of a night. The data is coming from this product (vertical axis is seeing, horizontal axis is time)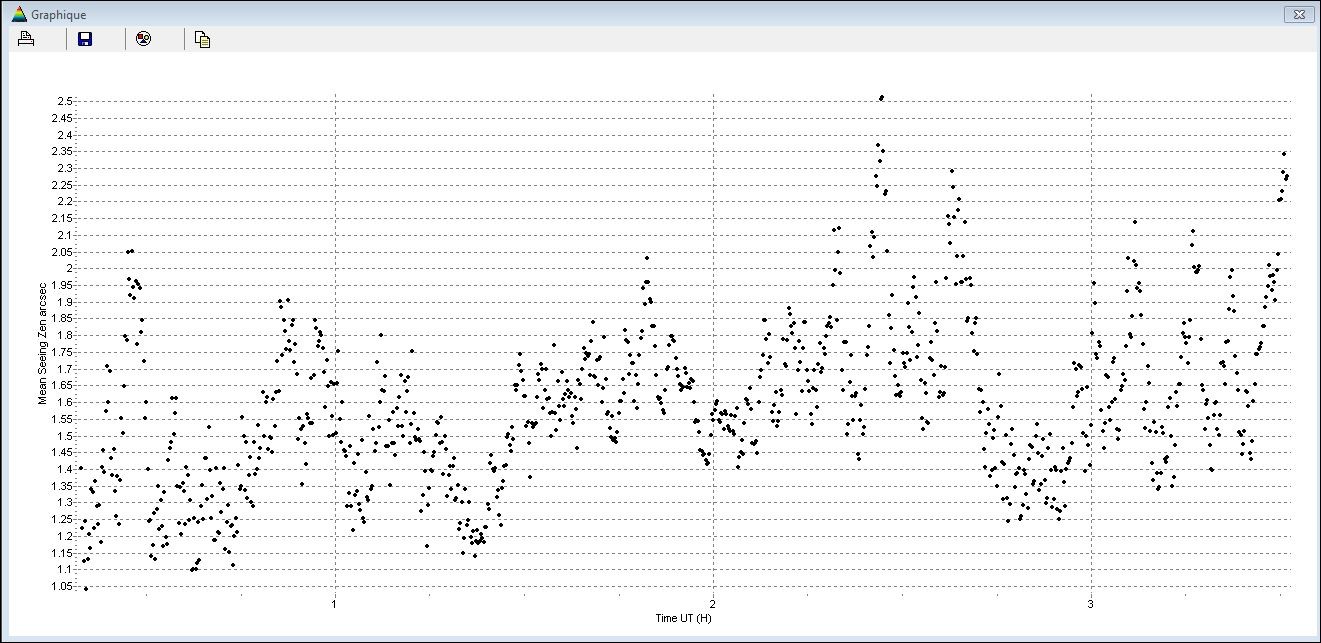 Data Validation
In order to validate this concept is working in reliable fashion, it has been compared with other systems, at the same time and the same place, twice.
The red dots are the star FWHM over the time from the RC telescope. The black dots are from the cyclop apparatus, and
shows very good agreement with the telescope measurements.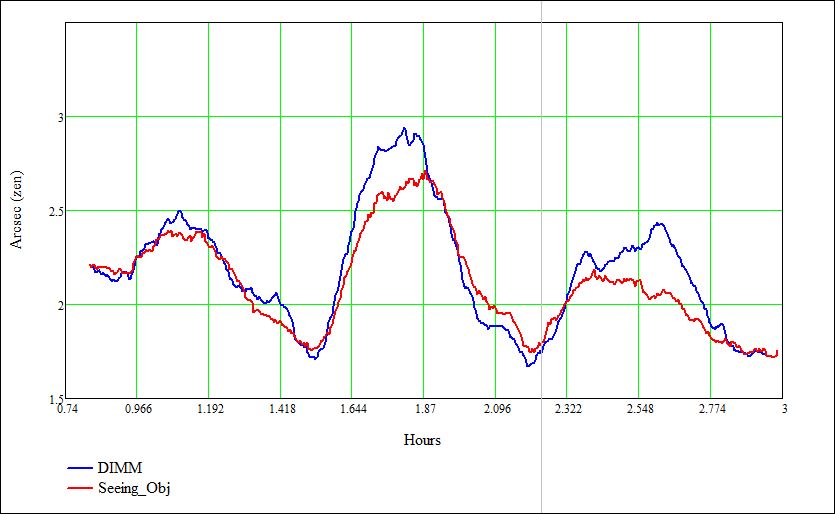 Here are the results, the blue line is from the DIMM and the red line from the fixed seeing monitor.The agreement between these two plots is very good, so the data coming out from the fixed seeing monitor can be regarded as reliable.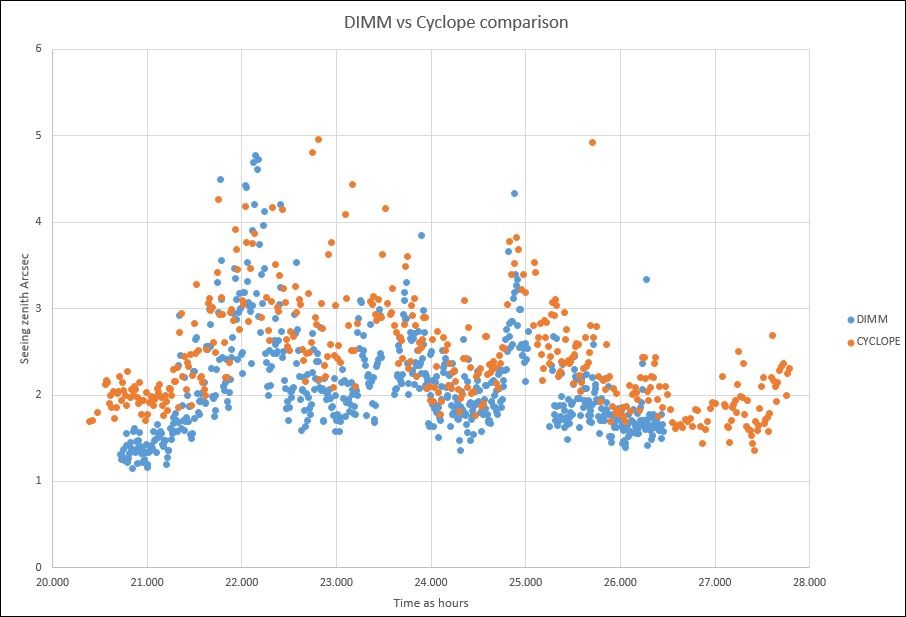 A last comparison with 10in DIMM system, carried out in July 2016. This is very close, and some difference is visible because polaris star and a star in cygnus constellation has been used, so the optical atmospheric path is not exactly the same. 
We work very hard to ensure that we offer the absolute best prices online.  If you find another online store that offers a lower price then us within six months of your purchase date please let us know and we will refund your original payment for the difference.  We want you to feel confident that you are getting the absolute best price for the product you are ordering.  If you find that our own website has a lower price for the same item you have ordered within six months of your purchase date will refund the difference as well.
To request your partial refund simply e-mail us a link to the same product on our website, or on our competitors website within six months from the date of your order and we will process the credit accordingly.
Our 100% Price Guarantee has some limitations:
You must purchase the item from our website before requesting your Price Match Guarantee

Promotions such as rebates and buy one, get one free offers are not eligible

The item must be in stock on the competitors website

The competitor must be an online store, they may not have a retail location

The website can not be a discounter or auction website (ie; eBay, overstock, etc..)

The competitor must be an Authorized Retailer of the product in question

The Price Match Guarantee includes the item price and the shipping charges, it excludes sales tax
Payment Policy:
You may pay for your order on Hyperion Astronomy with any of the payment options listed below.  As soon as you place your order, you will receive an order confirmation e-mail.  This means that we have received your order in our system and pre-authorized your credit card for the purchase.  Should you have any questions about your order or payments please contact us at support@hyperion-astronomy.com or call us at  1-480-493-5089.
Payment Methods
We accept several methods of payment as listed below. No matter what method you choose, we guarantee that every transaction you make on our site will be 100% secure. All prices are listed in U.S. dollars.
Credit Cards  – We currently accept Visa, MasterCard, American Express, and Discover cards. You can safely enter your entire credit card number via our secure server, which encrypts all submitted information.
Financing:
Hyperion Astronomy is proud to work with Paypal and Paypal Credit. Financing is available through Paypal Credit. We also use the very popular Affirm credit platform.
Questions:
Please feel free to reach out to us at support@hyperion-astronomy.com or 1-480-493-5089 should you have any questions about paying for your order.